1890 - 1915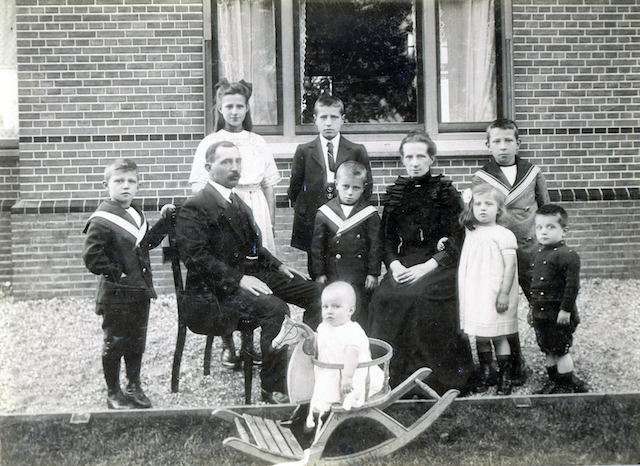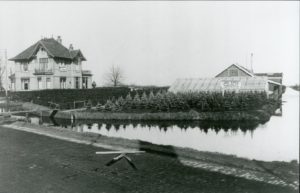 De geschiedenis van Jan Spek Rozen begint in 1890. Het jaar dat de twintigjarige Jan Spek zich vestigt in Boskoop, het beroemde Nederlandse sierteeltdorp. Jan wordt geboren op 28 mei 1869 in Nieuwkoop, een dorp in dezelfde regio. Hij verkent graag de omgeving en ontdekt Boskoop tijdens één van deze trips. Hij raakt enthousiast voor de sierteelt en gaat bij enkele kwekers in de leer, met de bedoeling daarna voor zichzelf te beginnen. Niet alleen de kwekerijen in Boskoop trekken hem aan, ook een lieftallige Boskoopse, Aartje Nijveld, weet zijn hart te raken. Jan, grondlegger van de Spek-dynastie, toont zich in alle opzichten ondernemend. Hij weet zowel een kwekerij te bemachtigen, als het meisje voor zich te winnen. Aartje Nijveld wordt zijn vrouw en de kwekerij in Boskoop gaat van start.
In het begin is er alleen maar handel in het binnenland. Maar al snel wordt er ook in het buitenland verkocht. Met veel succes, want Jan Spek blijkt een uitstekend zakenman. De kwekerijen worden uitgebreid en in 1912 laat Jan een fraai landhuis bouwen. Hier is voldoende ruimte voor het hele gezin, dat inmiddels met acht kinderen is uitgebreid.
Vanaf begin 1900 komt de belangstelling voor de roos op gang. Jan Spek introduceert dan al enkele nieuwe rozencultivars en ook een aantal nieuwe onderstammen. Bekend zijn daarbij de 'Spek's Improved' en de 'Spek's Supreme'. Echter, nog beroemder wordt de door Nijveld gewonnen en door Jan Spek in de handel gebrachte onderstam 'Rosa rugosa'.
---
History 1890-1915
The history of Jan Spek Rozen starts in 1890. That was the year that twenty year old Jan Spek settled in Boskoop, the famous Dutch floriculture town. Jan was born on May 28, 1869 in Nieuwkoop, another town in the same region. He loves to explore his surroundings and discovers Boskoop on one of his trips. His enthusiasm for floriculture is awakened and het sets about learning from growers, with the intention of later starting out on his own. He is drawn not only to the nurseries in Boskoop, the lovely Aartje Nijveld, Boskoop born and bred, manages to steal his heart. Jan, founder of the Spek dynasty, is in every way enterprising. He knows not only how to acquire a nursery, but also how to win the girl. Aartje Nijveld becomes his wife and the nursery in Boskoop starts.
In the beginning, trade is only domestic but before long sales are made abroad. Successfully too, because it turns out that Jan Spek is an excellent businessman. In 1912, the nurseries are expanded and Jan builds a beautiful mansion, spacious enough for the whole family, which now includes eight children.
The interest in the rose begins in the early 1900s. Jan Spek introduces a couple of new rose cultivars and a number of new rootstocks. The most well-known are the 'Spek's Improved' and the 'Spek's Supreme'. However, even more famous is the 'Rosa Rugosa' rootstock, discovered by Nijveld and introduced onto the market by Jan Spek
---
Historia 1890-1915
La historia de "Rosas de Jan Spek" empieza en 1890. Ese año, el veinteañero Jan Spek se instala en Boskoop, el famoso pueblo de la floricultura holandesa.
Jan nació en un pueblo de la misma región, Nieuwkoop, el 28 de mayo de 1869. Él conocía bastante bien los arededores y descubrió Boskoop en unos de sus viajes. Jan se emociona con la floricultura y se enrola a trabajar en algunos viveros, con la finalidad de aprender y así empezar por su cuenta.
No solamente los viveros en Boskoop llaman su atención, tambien una graciosa joven – Aartje Nijveld- quien toca su corazón. Jan, fundador de la dinastía Spek, se muestra en todos los aspectos como un emprendedor. Él sabe tanto de cómo conducir un vivero hasta cómo conquistar a una chica. Aartje Nijveld se convierte en su esposa y abren juntos el vivero en Boskoop.
Al principio comercian solamente dentro de Holanda, pero muy pronto comienzan a vender en el extranjero. Con mucho éxito, ya que Jan Spek demuestra ser un gran hombre de negocios. Los viveros crecen y en 1912 Jan hace construir una bella mansion. En ésta hay suficiente espacio para toda la familia, que se ha ampliado a ocho hijos.
A principios de 1900 es cuando empieza el interés por las rosas. Es entonces cuando Jan Spek introduce algunas nuevas variedades de rosas y también nuevos portainjertos. Entre estos se encuentran los muy conocidos "Spek's Improved" y "Spek's Supreme '. Sin embargo, aún más famoso es el portainjerto logrado por Nijveld y comercializado por Jan Sperk: 'Rosa Rugosa'.
ek.
---