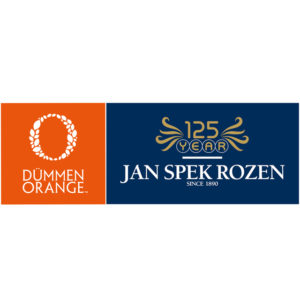 Nederland – De Lier / Boskoop, 2 maart 2017 – Het agentencontract tussen Olij Breeding BV en Jan Spek Rozen is opnieuw afgesloten en de samenwerking is uitgebreid. Naar aanleiding van de integratie van Olij Breeding naar Dümmen Orange is afgelopen tijd gesproken over de vernieuwde samenwerking. Door beide partijen is besloten om de jarenlange samenwerking door te zetten en op aantal punten uit te breiden.
Dit betekent dat Dümmen Orange vanaf nu agent is voor Ethiopië, Kenia, Colombia, Polen, Rwanda, Zuid-Afrika, Tanzania, Uganda, Zambia en Zimbabwe. Daarnaast heeft Dümmen Orange een distributeursovereenkomst met Jan Spek Rozen afgesloten voor een aantal landen wereldwijd.
Erik Spek, Algemeen Directeur Jan Spek Rozen: "Het internationale karakter van Dümmen Orange geeft ons toegang tot een groot netwerk met potentie. Wij zijn erg blij met de vernieuwde samenwerking met Dümmen Orange en hebben veel verwachtingen voor de toekomst".
Belangrijke uitgangspunten van de samenwerking zijn de continuïteit van dienstverlening richting klanten en het optimaliseren van de teeltomstandigheden. Het GreenCare programma van Dümmen Orange  wordt ingezet op de productielocaties om te zorgen dat de producten in optimale omstandigheden worden geproduceerd. Philippe Veys van Dümmen Orange: "Het assortiment van Jan Spek Rozen is van grote waarde voor ons en onze klanten. Dit biedt gezamenlijke kansen om de kwaliteit en de betrouwbaarheid in de productie te verbeteren en uit te bouwen. "Onze kennis van de diverse markten in combinatie met onze infrastructuur op diverse locaties, zal er voor zorgen dat onze klanten nog optimaler gebruik kunnen maken van deze samenwerking".
De komende maanden wordt gewerkt aan het in de markt zetten van het assortiment en het informeren van klanten over de mogelijkheden. Het assortiment van Jan Spek Rozen wordt opgenomen in de marketingactiviteiten van Dümmen Orange en hiermee zichtbaar gepositioneerd richting klanten.
Bedrijfsprofielen
Jan Spek Rozen
Jan Spek Rozen is één van de oudste rozen kwekerijen in de wereld, en sinds 1990 Hofleverancier. In 2015 heeft Koning Willem Alexander wederom 25 jaar toegevoegd aan deze pretentieuze Koninklijke titel. Het familie bedrijf heeft een betrouwbare naam in de nationale en internationale rozen wereld sinds het is opgericht in 1890. Het bedrijf veredelt zowel tuinrozen, potrozen, kamerrozen en kasrozen. Vooral de laatste 10 jaar heeft de het bedrijf vele nieuwe rozenrassen op de wereld markt geïntroduceerd.
Vele professionele tuin rozen veredelaars hadden gemerkt dat Jan Spek Rozen met zijn kennis en werkwijze een belangrijk deel uitmaakte van de roos industrie in Nederland. Tot op heden vertegenwoordigt Jan Spek Rozen nog steeds internationale professionele tuinrozen veredelaars.
Jan Spek Rozen heeft zijn eigen veredeling programma snijroos met een wereldwijd aandeel aan producerende landen zoals Kenia, Ethiopië, Ecuador, Mexico, Brazilië, Iran, Colombia, India, China, USA, Japan, Zuid Korea en natuurlijk Nederland en vele landen in de EU.   Bekende rassen in Zuid Amerika zijn: Mother of Pearl, Hearts, Lovely Hearts, Tutti Frutti, Agatha, Sandy, Newsflash, Monte Carlo, Irischka line en Pride of Jane (garden English).
In Afrika: Penny Lane, Chapeau, Sombrero, Alpe 'd Huez, Respect, Patz, Minion Rose, Samantha's Bridal, Brigitte Bardot en Irischka line.
Dümmen Orange
Dümmen Orange is een toonaangevend bedrijf in de veredeling en de ontwikkeling van snijbloemen, bollen, succulenten, potplanten, perkplanten en vaste planten. De omzet bedraagt ongeveer 240 miljoen euro. Het bedrijf telt wereldwijd meer dan 7.000 mensen. Naast een groot marketing en sales netwerk, heeft Dümmen Orange een sterk netwerk van productielocaties. De sleutel tot het succes van Dümmen Orange is een breed en diep assortiment ondersteund door een wereldwijde toeleveringsketen. Het bedrijf omarmt haar maatschappelijke verantwoordelijkheid en investeert in de gezondheid, de veiligheid en de persoonlijke ontwikkeling van haar medewerkers.